The Final Enemy Map Pack
Within this map pack you will find three different maps representing the levels of the sahuagin fortress presented in the aventure The Final Enemy, published in the 5e Dungeons and Dragons module Ghosts of Saltmarsh.
Pay what you want! Even nothing!
It's up to you: you can have the files for FREE or contribute with a little amount to tip me, which I'll appreciate immensely! Thank you very much!
Dungeondraft source files: Personalize your own map!
If you're interested in the Dungeondraft source files, you can have them if you tip $5 USD or more when downloading the files. Just be sure to choose the right amount for your support contribution. This will also give you access to the:
Foundry VTT scene files
These scenes are ready to use with walls, doors and lights already made by me so you won't have to! Just unzip the files in the right directory and import them inside Foundry.
Using these files with Foundry VTT:
To use this files with Roll20, follow these simple instructions:
Unzip the files.
Copy the folder named "franzwarm" to your modules directory, inside your user Data directory.
Inside your game world, create a new Scene - the name doesn't matter.
Right click the newly created scene and select the option Import Data.
Choose the .json file for the first level inside the directory you created in step 1, and import it.
Repeat the process for each of the three levels of the dungeon.
Optionally, you can install the FXMaster module. I've included some effects for levels 2 and 3, like wavy water motion and bubbles.
Enjoy!
Using these files with Roll20:
To use this files with Roll20, follow these simple instructions:

Unzip the files.
Create a new map in your Roll20 campaign, and set the dimensions as indicated:

1st and 2nd Levels: 4900x6300
3rd Level: 5320x7840

Choose the Map and Background Layer and Import the map image.

UPDATE: These map files use a .webp file format. Roll20 does suport it but you have to drag and drop the image from the file explorer in your OS directly into your map grid in the browser. You'll have problems if you use the Upload button in the gallery.

Right click the imported image and go to Advanced > Set Dimensions.
Change the option in the dropbox from Pixels to Units and set the width and height as indicated:

1st and 2nd Levels: 70x90 units
3rd Level: 76x112 units

Use the Select Tool to position the image accordingly.
Repeat for the maps of each level.
Enjoy!
FAQ:
Q: I can't find or did not received my download link. How can I recover my download links?
A: Go to this page and follow the instructions. Probably all you need to do is to type in your e-mail and click "Resend my Download Links".
Q: Will you make all the maps for this campaign?
A: That is the ideia. If you're interested you can follow my profile here on itch.io to know when new maps are released!
---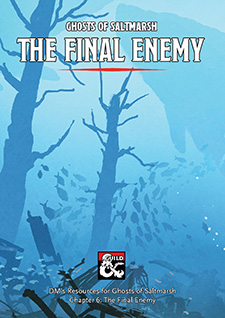 Saltmarsh is preparing for war. Merfolk, locathah, lizardfolk and human alike are banding together to face The Final Enemy: the sahuagin. Their numbers are vast and their fortress, immense. When the council decides to put together an elite strike force to gather information before the main assault, will heroes rise to meet the challenge?

If you want to expand the content you find in the original adventure book, check out this module by Daniel Kahn & Eventyr Games!
Download
Click download now to get access to the following files:
High Resolution Files
121 MB
if you pay $5 USD or more
if you pay $5 USD or more
Comments
Log in with itch.io to leave a comment.
Holy moly. your maps are outstanding!
Will you be making the "Emperor of the Waves" and "Abbey Isle"? :D
Thank you!
I'm releasing Tammeraut's this week, and after that I plan to comeback to make The Salvage Operation next!
Cool! Also the "empty version" of the Sea Ghost is it in the "premium pack"?

Hmm there is not an actually empty version of it, but if you have Dungeondraft installed you can have access to the project files and change every single element as you wish!
*edit: source files come with a tip of $5+ :)
Hi,
Great maps. I want to upload them to Roll20, but the files seems to be in webp-format, which Roll20 do not recognize. The other maps I bought from you earlier were available in jpg-format. Am I doing something wrong?

Hey! Thanks for your support!
Can you tell me a little bit more about the issue you're having? What browser are you using? I'm asking because I tested the files on Roll20 and they uploaded it with no problems on my end. Let me know so I can help you :)
ok, I think I know what is the problem. Instead of using the Upload button in your gallery, just drag and drop the image from the file explorer in your OS directly into your map grid in the browser.
I'm pretty sure this will fix it. I'll update the instructions. Thank you for the heads up!
That worked.
Thanks a lot for a quick reply. And thanks for creating these excellent maps. I feel a little ashamed of how little I paid you for them. I think I will buy them again at a higher price :-). Please continue building maps.

I'm very pleased to know that you enjoyed the maps! Don't worry about buying them again... But you can save for the next one! I'm working on Tammeraut's Fate right now ;)
Hi there,
Congrats for your awesome work! I would like to use it in a Unity project but I don't know all these file formats. Is it possible to use it in Unity. I also would like to pay for it if it works for me.

Thank you in advance.
Thanks! Well, these files are intended to be used as a virtual tabletop RPG (D&D) supplement. These files are made to be used with those kinds of software.
I appreciate your interest but these files are actually under a non-commercial license. You can check it out here: https://creativecommons.org/licenses/by-nc/4.0/